Virtual Book Tour – Kelly Siskind's LEGS
The first book in my friend Kelly Siskind's new series is out. I was lucky enough to get my hands on an Advance Reviewer's Copy and it is seriously sexy, funny fun.
If this sounds like your catnip (um, yes. Wine? Please. A sexy enemies-to-lovers type vibe with great banter? All the yes.)  you can buy immediately and enter for a chance to win a $15 gift card.
Running into your one-night stand is a special kind of awkward. Competing against him in a wine tasting contest is delicious torment…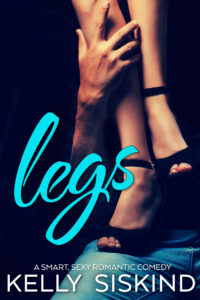 On Rachel's twenty-seventh birthday, she wishes to finally find a rewarding job. What she doesn't wish is to drink a boatload of wine, sleep with a tattooed bad boy, and drunk email her boss in one glorious, career-ending move. But the fiasco pushes her to pursue a career inspired by her late father's love of wine: sommelier.

Unfortunately, she's competing against her infuriating one-night stand, a man as intoxicating as a Pinot Noir.

Two years ago, Jimmy was set to inherit his family winery. Then it got ripped from his grasp. To close that dark chapter of his life, he plans to win a local sommelier contest and use the press to expose his family's tainted wines.

Jimmy loves studying the streaks of alcohol that cling to a wineglass, known as the wine's "legs," but other shapely legs are stealing his focus. Tantalizing legs. Legs that had wrapped around his waist for one wild night. Jimmy, sadly, has a weakness for legs.

He also hates to lose.
iBooks: http://hyperurl.co/LEGSiBooks
Kobo: http://hyperurl.co/LEGSkobo
Amazon: http://hyperurl.co/LEGSamazon
B&N: http://hyperurl.co/LEGSBandN
OR this:
Universal Book Link: http://Books2read.com/u/mdNWN5